seascape paintings
contemporary seascapes and ocean paintings
artist statement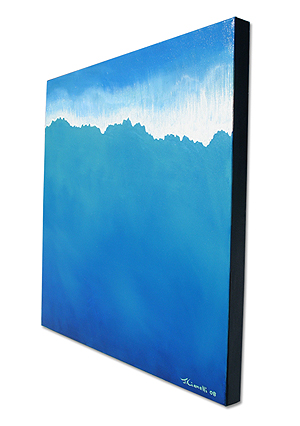 "The energy at the beach and along the shore soothes my soul. I can really become one with my work when creating seascape paintings. Inspired by wind, waves, sun, and objects in the distance, my senses urge me to take to creating artwork with the fullness of energy. The entire coastal experience is like a symphony and lends itself perfectly for me to create fluid drips of paint and sand-like texture on the canvas. My love affair with the varying tones of blues and greens is also really exemplified in a coastal painting. I created these seascapes and coastal paintings from memory. I use a slightly abstract and expressionistic style to evoke the emotions and express the energy I feel from being at the beach and being surrounded by the ocean."

"But let there be spaces in your togetherness and let the winds of the heavens dance between you. Love one another but make not a bond of love: let it rather be a moving sea between the shores of your souls." ~ Kahlil Gibran

For more information about Cianelli's abstract paintings visit About Abstract Paintings.
buy fine art prints
Please visit our Print Gallery to purchase canvas art, metal art, acrylic art, and fine art prints on paper. Every piece of art is individually reproduced by one of the most respected giclée printing companies in the world with over 40 years of experience producing museum-quality prints.