buy canvas art prints
Jaison's unique artworks are often printed very large on a variety of surfaces including canvas, metal, acrylic, and fine art paper. The most popular choice is a gallery wrapped canvas print with gloss varnish and artwork mirrored onto the sides, ready for hanging on your walls for a very contemporary look. These museum-quality giclée prints are individually reproduced by Fine Art America using acid-free materials and archival inks that will last a lifetime without fading. International orders are welcome and come with a 30 day 100% satisfaction guarantee return policy. All prints to be delivered in the Western Hemisphere are produced by the USA printing facility and ship within 3 business days of your order. Orders that are to be shipped to the UK or Europe will be produced by the UK printing facility and are fulfilled within 2 - 5 business days. To purchase prints visit our Fine Art Print Gallery.

For more information and help before purchasing your print visit the Print Buying Guide section. For more information about our return policy click here.
example prints
buy original art paintings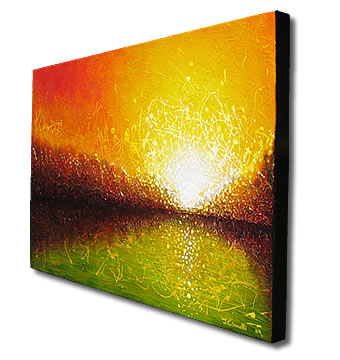 When you buy a painting at
Cianelli Studios
you are buying original contemporary art direct from Jaison Cianelli's art studio. We feel that buying artwork in this manner is beneficial to the artist and the collector. You can be sure that the entire purchase price of the artwork goes to the artist. Prices are also lower because we eliminiate the middle-man fees in the process.
To buy a painting simply
contact Jaison
to verify the availability of the painting you are interested in. Upon confirmation and agreement upon the price you can proceed to make the purchase of the artwork directly from him. You will receive a secure electronic invoice payable by credit card or Paypal account. Paintings are packaged safe and securely and shipped directly to you via USPS Priority Mail or FedEx. In the event that the artwork is not what you expected you can send it back and Jaison will give you a full refund.
For more information about our shipping and return policy click here.
iphone and galaxy cases
Jaison's art is available as a customized iPhone or Galaxy case to protect your smartphone in beautiful style. Cases are available for iPhone 5/5S, iPhone 5C, iPhone 4/4S, Galaxy S5, and Galaxy S4. Click Here to view all of our customizable smartphone cases featuring Jaison's artwork.
personal art checks
Jaison is a licensed artist with Check Advantage. You can choose from 4 different series of checks with carefully selected pieces of art. Prices are as low as $17.95 with free shipping.
throw pillows
Throw pillows are for sale in sizes 14" x 14" up to 26" x 26". Artwork is printed onto both sides of the pillow and includes a concealed zipper and removable insert for cleaning. They are great on their own or can be used to match any artwork by Jaison. You can even customize the look of the pillow by choosing a particular section of artwork to be printed. Click Here to view all of our customizable throw pillows.