abstract sacred art
abstract forms and spiritual concepts
artist statement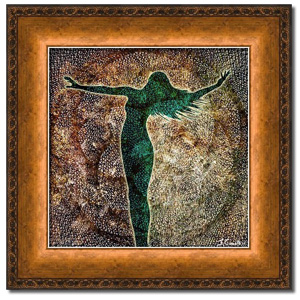 "These representational mixed media abstract artworks were created in part because of my desire to express a connection with the Divine Source within. By first focusing on a spiritual concept or feeling I can begin to visual the art in my minds eye. There is a very uplifting feeling to these modern abstract paintings. They are bright and cheerful as a result of a "higher vision" approach put into the art. I hope to share with the viewer subtle spiritual elements of sacredness, love, peace, and transcendence to become more. Through all my art and especially these abstract artworks, I want to express joy and remind others about our connected relationship with each other and the whole of creation beyond what we can see with our eyes."

"You are a child of God. Your playing small doesn't serve the world. There's nothing enlightened about shrinking so that other people won't feel insecure around you. We are born to make manifest the glory of God that is within us. It is not in some of us, it is in everyone. And as we let our own light shine, we unconsciously give others permission to do the same. As we are liberated from our own fear, our presence automatically liberates others." ~ Marianne Williamson

For more information about Cianelli's abstract art visit the Print Buying Guide or the Abstract Energy Art gallery.
buy fine art prints
Please visit our Print Gallery to purchase canvas art, metal art, acrylic art, and fine art prints on paper. Every piece of art is individually reproduced by Fine Art America, one of the most respected giclée printing companies in the world with over 40 years of experience producing museum-quality prints.