abstract landscape paintings
contemporary landscape paintings for sale
artist statement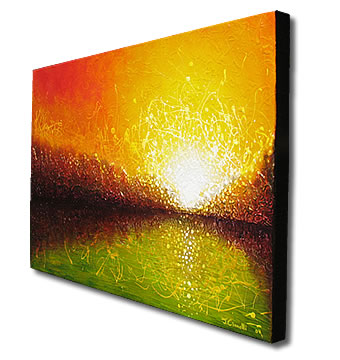 "When creating an abstract landscape painting I'm not attempting to re-create reality. My landscape paintings are more an expression of the inner place inspired from the open spaces in the natural world. The more abstract the landscape the more it is formed in spirit and spontaneity right on the canvas and not from an actual place. I try to capture an essence and bring a feeling onto the canvas. I enjoy exploring in an exaggeration of color, forms, and texture.

I want the viewer to feel the joy that went into creating my abstract landscape paintings, so much so that they want to touch the painting. I have to admit, besides the colors, I have a love for the fluidity of the paint and creating the globs of underlying texture. The texture that is formed by dripping paint onto the canvas is a lot of fun and it lends itself nicely to the subject matter and the fluidity of nature. The speed at which I apply the acrylic paint onto the canvas can be seen in what looks like meteorites flying across the sky. Like a composer waving his wand, I get to dance with the paint when applying it."

"In short, all good things are wild and free." ~ Henry David Thoreau

For more information about Cianelli's abstract landscape paintings visit About Abstract Landscape Paintings.
buy fine art prints
Please visit our Print Gallery to purchase canvas art, metal art, acrylic art, and fine art prints on paper. Every piece of art is individually reproduced by one of the most respected giclée printing companies in the world with over 40 years of experience producing museum-quality prints.